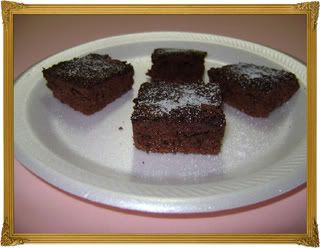 Ingredients
Butter-1/2 cup
Chocolate syrup(Hershey's)-1/2 cup
Sugar-1 cup
Eggs-2
Maida/allpurpose flour-1 cup
vanilla essence-1 tsp
Salt- a pinch
Preparation
1)Take a bowl beat eggs in it.Add butter,sugar to the eggs and beat them till creamy.
2)Add the all purpose flour to it and mix well.Add chocolate syrup,vanilla essence,salt and mix well.
3)Preheat the oven at 350.Grease the pan add brownie batter to it and bake it for 25 minutes.
4)Insert a toothpick in the middle of pan.It should come out clean
5)Let them cool for 10 minutes and cut them.
->I made this with only half of the above ingredients since it is the first attempt.
Recipe source:
Here